piercing jewellery
ready to ship labrets and bars.
:: discover the full collection ::
architectural in their form, our latest body of work is an ode to jewels of an ancient past.
vivid sapphires, tourmalines and diamonds are set into rich and opulent yellow gold. subtly textured and smoothly sculpted rings have been attentively designed to stack together, every angle deeply considered during their realisation. the individual nature of the pieces in this collection is met with harmonised detail through fine lines and intricate patternwork. all meticulously handmade in our workshop in brighton, england.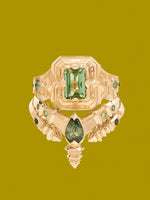 nuri : inara : torque
solid gold stack featuring tsavorite, sapphires and tourmalines. shades of opulent greens set into the rich yellow gold of the Nuri, Inara and Torque rings evoke an ancient past. 
shop