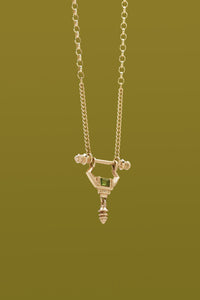 The Raani bar ::: tourmaline/sapphire centred gold amulet moves freely whilst  suspended from a threaded, intricately carved bar. This piece is best worn in the ear: helix + upper lobe.
Threaded closure for security.
length: post length (note, the overall length of the bar will be slightly longer to accommodate for amulets)
gauge: 1.2mm diameter or 1.4mm diameter.

material: 9ct yellow gold, 18ct yellow gold.

This piece is made to order, please allow 8-10 weeks for its creation. Should you need it sooner, please email info@jasmineataullah.com with your request, and we will try our best to accommodate.