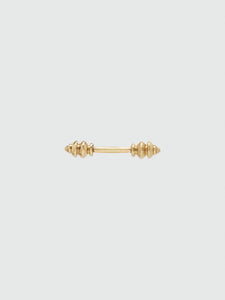 ..::.. Kyda is a versatile adornment fit for a variety of piercings.

Best for: helix, forward helix, tragus.
The Kyda Bar has been made in solid 9ct or 18ct yellow gold through ancient methods of hand fabrication and lost wax casting. All pieces have been handcrafted in our Brighton workshop on the south coast of England. 
1.2mm diameter gauge.
solid 9ct yellow gold
solid 18ct yellow gold
This piece is handmade in house to individual specifications, please allow 8-10 weeks for your order to be shipped.