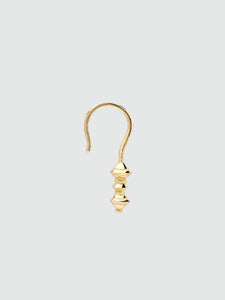 Delicate hand crafted hooks descend from the lobe in solid 9ct yellow gold, the Neem hooks have been handcrafted in our Brighton workshop through ancient methods of hand fabrication and lost wax casting. 
Choose a single hook or pair.
25mm length
solid 9ct yellow gold
This piece is handmade in house to individual specifications, please allow 8-10 weeks for your order to be shipped. If you require your piece before a certain date, email info@jasmineataullah.com and we will try our best to accommodate.