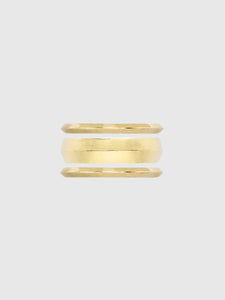 Handmade gold toe rings with hand engraving details and an open back fitting. Choose your size from the drop-downs. 
Stack 1
2 x fine peaked convex band (1.4mm wide)
1 x wide peaked convex band (3.7mm wide)
If you'd like a custom variation you can send us an email at info@jasmineataullah.com or add a note to your order at the checkout. 
These pieces are handmade in house to individual specifications, please allow 8-10 weeks for your order to be shipped. If you require your piece before a certain date, email info@jasmineataullah.com and we will try our best to accommodate.